Royal Ascot: Stricter dress code in new style guide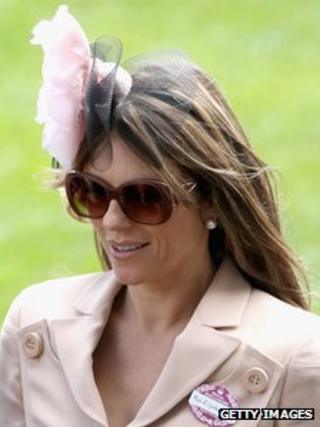 Royal Ascot's first ever style guide will land on racegoers' doormats this week, clarifying the dress code for those who plan to attend.
In Ascot's Royal Enclosure, hats, not fascinators, will be mandatory as part of the stricter rules.
Dress straps must be at least one inch in width, hem lengths should fall "just above the knee or longer" and bare midriffs are not allowed.
Ascot Racecourse said it would help with "confusion" over the dress code.
Head of communications Nick Smith said the traditions of the event dated back to the Edwardian era.
"The dress code for Royal Ascot is formal day dress, and not everybody knows what it is," he said.
"We have had a lot of issues in the past because people have been confused. We want to make it easier for people to understand what they should wear."
Mr Smith said the new style guides had been sent out due to feedback from racegoers.
People 'frustrated'
"What frustrates people if they have made the effort to dress up with a nice new hat, and other people just haven't bothered. That's not in the spirit of the event," he said.
The Royal Enclosure is an exclusive area within the Royal Ascot racecourse, which people can only enter after being sponsored by existing badge holders who have attended for four previous years.
For men, a waistcoat and tie, black shoes and a black or grey top hat will be compulsory in the enclosure, and cravats will not be allowed.
The new style guides also specify men attending the event in the less formal grandstand will be required to wear a suit and tie, rather than just jackets and trousers.
Women watching from the grandstand will be required to wear a hat or fascinator - a cross between a hair accessory and a mini hat - at all times.
Emergency fascinators will be on sale at the gate for the first time for racegoers who turn up with uncovered heads.
In previous years, female racegoers not attending the Royal Enclosure were simply advised "many ladies wear hats".
All women must steer away from bare midriffs as well as strapless or sheer strap dresses and tops.
The annual week-long event in June attracts about 300,000 visitors each year.