Reading's insect life researched in new wildflower meadows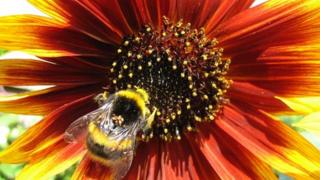 Wildflowers and weeds are to be planted across in Reading's parks as part of plans to increase the number of bees and insects.
The £1.3m research project will examine how insects are affected by urbanisation.
Ecologists will plant the wildflowers and weeds in Christchurch Meadow, Kings Meadow and Prospect Park.
Flower meadows, allotments and cemeteries will be planted in Reading, Bristol, Edinburgh and Leeds.
The flower-rich meadows will provide pollen and nectar for pollinating insects and act as wildlife corridors, allowing insects and other invertebrates to thrive, according to the University of Reading.
Simon Potts, professor of biodiversity and ecosystem services at the university, said: "This research will help to suggest the most effective conservation methods and ensure a better future for these fascinating and hard-working insects we so often take for granted."
The project will run until July 2014, and is a collaborative study between the University of Bristol, University of Edinburgh, University of Leeds and University of Reading.