Kite 'swooped' on Pomeranian dog at Widbrook Common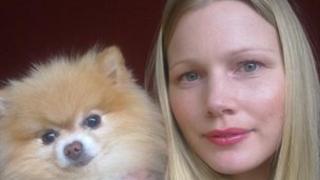 A bird of prey twice swooped on a woman's dog as she walked in fields near her home in Berkshire.
Kate Hillman, from Maidenhead, said she had feared the large kite would attack Vinnie, her five-year old Pomeranian.
Ms Hillman said she had tried to scare it off, but the bird had kept going for the dog, near Widbrook Common, Cookham.
The RSPB said there was no risk to the dog from the red kite, as the birds of prey were scavengers, mainly feeding on carrion.
Grahame Madge, a spokesman for the charity, said the birds had become accustomed to human contact as many people living near the Chilterns put out food for kites in their gardens.
"Red kites are quite large birds and can feel quite intimidating, but there wouldn't be a threat to her [Ms Hillman's] pet from these birds," he said.
Ms Hillman said: "It had been following us for the last minute-and-a-half of the walk and it was just getting closer and closer.
'Claws came out'
"I thought something is not right here, so I kept him close and then that was it - it came in for him.
"I actually saw the claws come out and it was huge, absolutely huge.
"I don't know why I did this but I stepped forward, stamped my feet on the floor and shouted 'Oi!' at this bird.
"I've got [Vinnie] in my arms and it's actually coming back down for him.
"So I hurried along to my car and thought I can't believe this has just happened.
"Then exactly the same thing happened the next day."
Red kites have a wing-span of 5ft (1.5m), but according to the RSPB "would not be able to pick up a dog".
Sam Stokes, from the RSPB, said red kites usually targeted worms and road kill.
He said: "At this time of year they can become territorial if they are nesting nearby.
"They do use this swooping behaviour, either to take a closer look at something that they're not quite sure of, or they will attempt to chase away anything they may be threatened by.
"They've been reported taking small mammals, but we're talking mice and field voles."