Taplow Bishop Centre expansion 'could harm Maidenhead'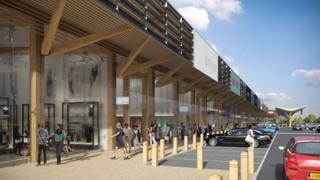 An out-of-town shopping centre could harm town centre trade, according to Maidenhead Chamber of Commerce.
Plans to redevelop Taplow's Bishop Centre were approved in March.
Royal Borough of Windsor and Maidenhead Council has asked the government to reconsider the application amid concerns over its potential impact.
New modern retail units and a Tesco supermarket are proposed for the Bath Road site, which would create hundreds of new jobs.
The council has written to secretary of state Eric Pickles raising concerns of the potential impact on the vitality and viability of Maidenhead town centre, along with nearby Burnham and Slough.
'Mini high street'
Peter Sands, from Maidenhead Chamber of Commerce, said there was still time to alter the plans.
He said: "Not enough notice has been taken of the potential impact on the town centre.
"We feel it would be quite severe. The plans are to change what is currently a local, specialist centre into a much bigger animal. A mini high street almost.
"Maidenhead is currently looking at its own major regeneration plans for the town centre and we feel The Bishop Centre could have an adverse effect on attracting potential investors."
Under the multimillion-pound plans, the existing Bishop Centre on the A4 would be demolished and replaced with new modern, purpose-built retail units.
New access roads, car parking and landscaping are also included in the application from developer Land Securities.
Spokesman Naomi Curtis said: "It's not unusual for applications like this to be looked at in more detail by the government.
"It's all part of the democratic process and we would obviously want to make sure we are working within that."