Legoland Windsor closed for day due to power failure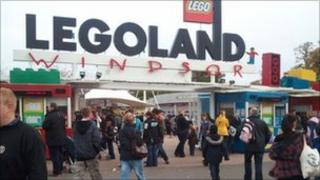 Legoland in Berkshire will be closed for the rest of the day due to a power failure, but will reopen on Monday.
A spokeswoman said it was unclear what had caused the electrical fault, which happened before the site opened.
People with tickets were offered the chance to exchange them for entry to Chessington World of Adventures or can now swap them for another date.
Visitors have written on the park's Facebook page complaining of delays and a lack of information.
Sarah Lamley, who travelled from Warwickshire with her family, said she had been in a traffic queue for about an hour until finding out the park was shut.
She told BBC News: "We didn't hear about the problems until we arrived outside Legoland and a police officer told us it was closed.
"There were no signs, nothing along this hour-long queue. Obviously by this point my four-year-old had already seen the signs and was really, really excited.
"[When we got there] they wouldn't even let my son use the toilet which I thought was harsh seeing as he had been sat in the car for three hours.
"I appreciate they are having technical difficulties but we've spent £50 on petrol today to drive there and back.
"They said you can go to Chessington if you have pre-booked but we were going to pay on the door, so that's left us in a really awkward situation."
'Very sorry'
Fiona Clist wrote on the park's Facebook page: "I'm not cross at Legoland, I'm cross at the situation.
"We're now heading home home to Bath with a lot of disappointed children, but there's nothing we can do about it."
A Legoland spokeswoman apologised to visitors.
She added: "We are very sorry about this, the park is currently shut.
"However, the team are working incredibly hard... to try and resolve it as soon as possible."
The park later added: "We did everything we could to fix the problem, but the issue was out of our control."
She said it would have been police who stopped the boy from using the toilet, not Legoland staff.