Diamond Jubilee: Reading's Catherine Street party planner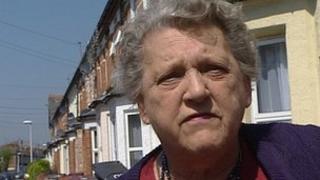 Catherine Street, in the centre of Reading, has always thrown a street party for big occasions such as VE Day, royal weddings, coronations and jubilees.
For 35 years Gill Greenwood has been at the centre of organising the entertainment, decorating the street and cooking the food.
She said: "I just enjoy getting people together and being friendly."
Ahead of the Diamond Jubilee party, she has been busy collecting donations and has brought down the same red white and blue bunting from her loft which had been packed away after every party since the Silver Jubilee celebrations of 1977.
"It's a sight to be seen, with all the bunting flapping in the wind. The street looks enormous without the cars," she said.
'Community spirit'
Neighbour Janice Small, who has lived on the terraced street for 42 years, still recalls the 1977 celebrations.
"I just remember the street with tables from one end to the other. My brother won a fancy dress competitions.
"It feels nice, there's a wonderful community spirit. Gill gets everyone together."
Mrs Greenwood was 14 when the street celebrated the coronation.
She remembers decorated bicycles and watching the ceremony on a tiny black and white television screen.
"It wasn't very big because I wasn't organising it," she said.
By the time of the Silver Jubilee, Mrs Greenwood and her late husband had rallied the street to celebrate in style.
Along with the fancy dress competition was a dry cornflake eating competition and an impromptu disco was held in Mrs Greenwood's front room.
"For the royal wedding I put balloons on all the houses, but people said 'they were popping all night and kept us awake'. I won't be doing that again."
The bashes for the royal wedding of 1981, the Golden Jubilee and the wedding of the Duke and Duchess of Cambridge last year have all entered Catherine Street legend.
Even residents who have moved away will be returning for the Diamond Jubilee event.
Party planner
This year a china smashing competition is a new addition, along with a disco and bouncy castle.
Mrs Greenwood has delegated sandwich-making duties and readied a portrait of the Queen to display in her own window.
"You get to know people. So many people say they don't know their next door neighbour and that's sad, really sad," she said.
Rob Stroud, 91, is the oldest resident of Catherine Street.
He remembers the VE Day party when there were still air raid shelters in the street.
"I've seen quite a lot of change in the street, it's quite different now.
"We've always had these little parties - it's quite jolly"
At 73, Mrs Greenwood insists this is going to be her last street party.
"It's hard work rushing around with everyone shouting, but I like it - I need to be needed.
"I'm looking forward to seeing what we can do
"It'll be alright on the day."