Mandarin language centre opens at Wellington College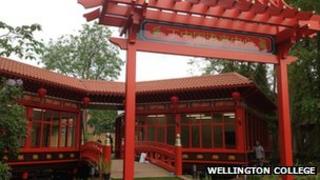 A centre dedicated to teaching Mandarin has opened at a Berkshire independent school.
The £500,000 facility at Wellington College at Crowthorne is believed to be the largest of its kind in the UK.
As well as being used for language teaching, it will stage Chinese cultural activities and will host pupils and teachers from other schools.
China's ambassador to the UK Liu Xiaoming opened the two classrooms in the pagoda-inspired building.
The school currently has two Mandarin teachers and more than 50 pupils learning the language.
Head of modern languages Cressida Henderson said: "It's a reflection of the achievement of China in the past 30 years.
"The world knows more about China, and in terms of trade, more businesses and entrepreneurs are interested in trading with China."