Bucklebury celebrates Jubilee with special song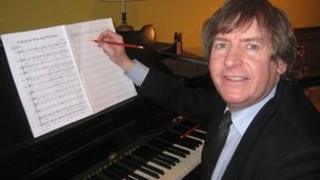 Villagers at Bucklebury, in Berkshire, where the Duchess of Cambridge was brought up, will be singing a song for the Queen at a Diamond Jubilee concert.
Composed by Catherine's former piano teacher, Daniel Nicholls, Sixty Years Our Queen will be sung by the Bucklebury choir at the event.
Mr Nicholls, who taught the duchess as a child, said he "wrote the song as a present to the Queen".
He posted the song to the Queen and received a thank you letter in return.
The letter from a lady-in-waiting stated the Queen "was touched" and that Her Majesty "was pleased to learn the Bucklebury choir will perform it at a celebration for the Jubilee".
The backing track of the song is available for free download from Mr Nicholl's website with the aim of getting as many people to sing it as possible.
He has also set up a Youtube Channel called the Big Jubilee Sing.
The initiative is led by Hampshire disability charity Enham, which also has a choir.
Mr Nicholls said: "It's already been sung in America and by some soldiers in Afghanistan."
See all the latest Diamond Jubilee news and features at bbc.co.uk/diamondjubilee