Berkshire new builds lowest for 25 years, figures reveal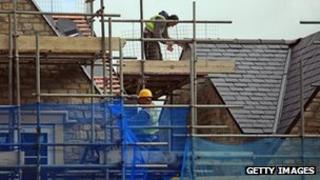 The number of new homes being built in Berkshire is at its lowest for 25 years, figures have revealed.
Figures released by the National House Building Council (NHBC) show new builds in the county have fallen by more than 50% since 2007.
Last year, just 1,200 new homes were registered in Berkshire compared with 3,000 in 2007.
But experts say the private sector across the UK showed signs of recovery in the first quarter of 2012.
The picture in Berkshire is echoed across the country. The number of new homes being built is currently around two-thirds the level seen at the market's peak in 2007.
Market recovery
Demand continues to be at its greatest in the public sector, with the need for new social housing still high on the agenda.
Richard Tamayo, NHBC commercial director, said the government had made steps to stimulate a market recovery.
He said: "There's a hiatus at the moment as the industry moves from one funding model to another.
"The key to recovery really is in the private sector. If there's an area that can generate fiscal stimulus, it's this market.
"Almost all the benefits are ploughed back into the UK economy in terms of labour and materials, so it's definitely a product that's needed.
"We probably won't see a healthy recovery until the banks are happy to lend again or until the planning system is made more flexible."
Price stability
Despite the five-year decline in new builds, demand in the Berkshire housing market appears to remain healthy.
Neal Mackenzie, from Michael Hardy Estate Agents in Wokingham, stressed house prices have stabilised in the downturn.
He said: "I've worked through three recessions and this is certainly not the worst of them.
"People are realising they need to put more of their own money down first before looking to get a mortgage.
"That's the most sensible option when you consider banks are less prepared to offer 100% or 95% mortgages.
"The market in terms of who has the available finance has dropped, but the prices haven't fallen as dramatically.
"There are new homes on the market and new sites cropping up, especially around Reading.
"Builders are certainly beginning to think that the market can cope with a few more new homes."