NHS Lucentis drug refusal could 'leave man blind'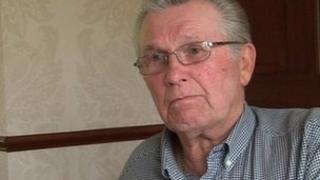 A Berkshire man with a rare eye disease could be left blind because of a dispute over which drug is used to treat his condition.
Tony Watson, 69, is blind in one eye and wants the drug Lucentis to save the sight in his other eye.
But the local primary care trust (PCT) has refused to fund the drug and offered a cheaper alternative.
Berkshire West PCT said there was no specific policy for Mr Watson's rare condition and that he could appeal.
Mr Watson, from Wokingham, has a condition where abnormal blood vessels are formed behind the eye.
He said: "What you try and do is grab as much living and seeing as you can now, because you don't know what is going to happen to you in the future."
Lucentis costs £700 per injection, which Mr Watson has had previously on private health care. He said he could not afford to pay for the treatment himself.
Berkshire West has offered Avastin which costs £60 per injection.
In a statement, a NHS Berkshire spokesman said its policies were based on "clinical effectiveness evidence" as well as cost.
The issue of whether to prescribe the cheaper drug to patients with wet age-related macular degeneration (AMD) has been the subject of controversy within the NHS.
But Mr Watson's disease is so rare that there is no specific NHS policy on his condition.
His cardiologist and ophthalmologist have advised he continue using Lucentis as he has suffered two heart attacks and they believe Avastin could have possible side effects on his heart.
The Royal National Institute of Blind People (RNIB) has written letters to Berkshire West PCT demanding the reason for the Lucentis refusal, but campaigns manager Clare Eaglin said the PCT "never managed to give us that information".
She said: "If the clinicians in the case are saying it could have an impact, it seems absurd to give him a drug when he could be at risk".
NHS Berkshire said: "It would not be appropriate for us to comment through the media on individual cases".