Ascot and Bracknell health service changes unveiled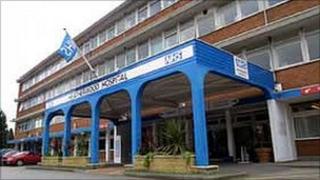 NHS bosses have confirmed plans to redevelop a Berkshire hospital previously threatened with closure and relocate some of its services.
Proposals for Heatherwood in Ascot include building a new surgical hospital and relocating its minor injuries unit to nearby Bracknell.
The hospital's birth centre which shut in September 2011 would remain closed.
Philippa Slinger, chief executive of Heatherwood's NHS trust, said services could be relocated "within a year".
Relocation 'benefits'
The proposed new surgical hospital would carry out "cold elective surgery," said Mrs Slinger, with a view to taking on "more complex cases".
She added there were benefits in moving some of Heatherwood's services to an existing NHS clinic in Bracknell town centre.
Most of the patients who use the minor injuries unit "come from Bracknell", she said, and would be able to see GPs already based at the clinic as well as nurses.
"Effectively you'll be able to pitch into Bracknell for almost everything you need if you don't need to be in hospital," she said.
Currently the unit at Ascot has on average about 20,000 attendances per year.
Of the birth centre closure Mrs Slinger said there were "less than 200 women having their babies" at Ascot in the last year of it being open, compared to 6,000 women at nearby Wexham Park Hospital in Slough in the same year.
Carol Brooker from the Bracknell Health Advisory Group said there were concerns about the birth centre closure and there would need to be a consultation on the proposals.
"Local people need to scrutinise the plans to see if it will match their needs", she said.
Full details of plans will be published on Monday.