Help For Heroes war route rally under way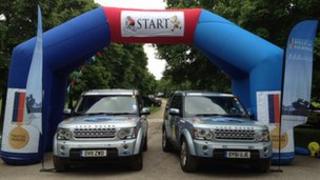 A fleet of 4x4 s crewed by 120 people has set off from Berkshire on the start of a 2,000-mile journey in aid of Help For Heroes.
The 13-day rally follows the path of the Allied invasion through Europe during World War II.
Keith Bowen and his son established the event in 2010 with a view to raising £20,000 for the charity.
But each event has raised more than £100,000 and this year they have already raised over £170,000.
The group, which can be tracked live on the Help For Heroes website, left from Littlecote House Hotel in Hungerford at 11:30 BST.
The 16th century mansion was the HQ of the US army's 101st Airborne Division during the war.
From there the rally will travel across the channel and through France, finishing at Adolf Hitler's Alpine retreat at Berchtesgaden in Germany.
Mr Bowen said: "I'm supposed to be retired and enjoying life, instead this has become a full time job.
"But I don't mind because I really enjoy it. The camaraderie is fantastic, it's become an extended family.
"Many of the 2010 lot are with us today."