Reading station to have Olympics 'engineering embargo'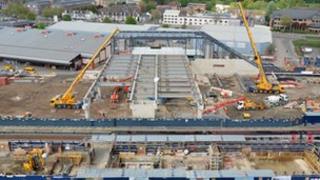 Passengers at Reading station have been promised "no disruptive engineering works" during the Olympics despite an £850m redevelopment.
Network Rail project director Bill Henry said the work was "reaching a crucial phase" but there would be an "Olympic engineering embargo".
All three of the station's platforms that has services to Waterloo are being extended and will be open in mid-July.
A new 30m-wide passenger bridge will also be moved into place next month.
Network Rail said it did not have estimates for the expected increase in passenger traffic at Reading during the Olympic Games.
But Mr Henry said the extended platforms would be able to accommodate 12-carriage trains rather than the current eight-cars to allow "a lot more room for passengers".
Network Rail said the redevelopment was a third of the way through, on time and within budget.