Digger used to steal cash machine in Three Mile Cross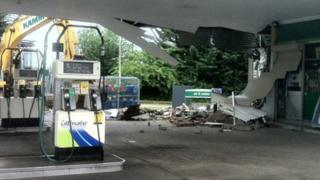 Thieves have driven a digger into the front of a garage in Berkshire and made off with a cash machine.
Offenders stole the excavator from a nearby building site and drove it into the BP garage in Basingstoke Road, Three Mile Cross, at about 03:00 BST.
Police believe they drove the machine away on a white flatbed lorry while a silver BMW was also seen leaving.
A spokesman said it was unclear how much money was in the machine. Officers are appealing for witnesses.
Nicholas Holsgrove, who drove past the garage on his way to work, said: "It was a crazy sight.
"It looked like the ATM had been competed removed... there was just a hole in the wall.
"The digger was still onsite and there was damage to an electric sub station at the garage too."