Reading's Bath Road Reservoir plan has fewer homes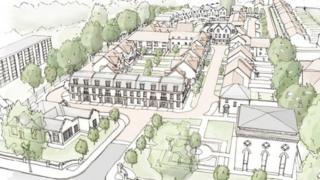 A new planning application with fewer homes and lower building heights is to be submitted by Thames Water for its disused reservoir in Reading.
The firm had wanted to build 96 homes at the Bath Road site but it was met with fierce opposition.
The water firm said it had listened to concerns and is now proposing 72 homes, while a Grade II listed water tower would be turned into six apartments.
The Save the Bath Road Reservoir Group said it would prefer nearer 50 homes.
But Mel Woodward, from the group, conceded the new plans were likely to be approved as they would probably meet council planning guidelines.
'Unsafe'
She added: "Overall any improvement is always good but we still don't think they've done enough. Seventy eight is still a lot and its about them trying to cram in as many units as possible to make as much money as possible.
"Apart from the green space they can't build on because its sloping or not possible, I don't think they are going to leave any other significant green space."
Thames Water's first plan was turned down by Reading council and then thrown out by the government inspector in January 2011 following a public inquiry.
Alec Arrol, Thames Water's development planning manager, said: "The number of dwellings we are proposing is significantly below the limits set by the council in their policy for the site.
"The height of the development has also been reduced so that the tallest buildings on the site are now two storeys with rooms in the roof space.
"The reservoir has come to the end of its useful life and our investment elsewhere in the network means it is no longer needed."
Some local people want to keep the brownfield site as a wildlife haven.
But the water company said the reservoir could not be left vacant because it was unsafe.