Reading knife crime: 'Something needs to change'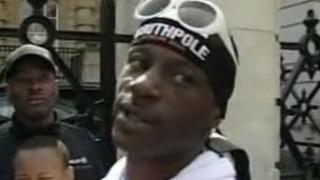 Relatives of knife crime victims in Reading have spoken out about the latest fatal stabbing in the town.
Paul Spence, father of 17-year-old Robert Spence, who was murdered in 2008, said he was "very shocked" and "angry".
Jordan Malutshi, 17, from Clapham, south London, was stabbed in the heart at The Face Bar in the early hours of Sunday.
Mr Spence said his youngest daughter knew the teenager. "She's upset," he said, adding that she used to see him in the Reading suburb of Whitley.
"It still makes me angry that this has happened," he added.
His son Robert, from Burghfield Common, left a club in Reading with six friends on 2 May 2008 and was stabbed while trying to break up a fight.
'Nothing has changed'
Three men from Bristol were convicted of murder and attempted murder and were sentenced to a total of 62 years.
Mr Spence said a review of knife murder sentencing was needed.
"It should be an instant life sentence, nothing more, nothing less," he said. "That would stop people carrying around knives.
"When I heard about it I thought, 'who is going to get the phone call that I got?'
"He died in a strange place miles away from home. It winds me up."
Lucy Davis, from Reading, whose brother Scott Davis was stabbed to death at the Oracle shopping centre in 2001, also said jail terms needed to be reviewed.
"Our brother's murderer was released after 10 years and he's out now," she said. "So you can go out, kill someone with a weapon and be released.
"You take a life but you don't receive a life sentence."
Ms Davis led a campaign to increase awareness of knife crime at the time of her brother's death, but said "nothing really has changed".
"You campaign so hard to stop people carrying knives, what it can do and the effect it can have on families and yet people are still carrying weapons thinking it's OK to do so," she said.
"Metal detectors in clubs, are they using them? Knife crime education in schools? Something needs to change."
Figures from the Office of National Statistics for England and Wales show that in 2011, 211 people were murdered by people using knives or other sharp, bladed instruments.
'Longer sentences'
Reading East MP Rob Wilson led Reading's Knives Cost Lives campaign and said he wants to see "metal arches" become regular features in the town's nightclub entrances, in order to detect knives.
He echoed the call for longer jail terms for knife murders.
"I believe that anyone caught carrying knifes should be punished severely to ensure there is proper deterrence," he said.
"This should also be bolstered by longer sentences for murderers and life actually meaning life in more cases."
Jordan Malutshi was stabbed to death at The Face Bar, Chatham Street, shortly before 04:00 BST.
Reading Borough Council said it would be speaking to police and the licence holder about the incident and would "take action if required".
A 31-year-old man from Reading has been arrested by Thames Valley Police after he handed himself in on Monday.