River Kennet sewage work upgrades to begin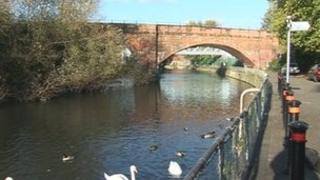 A waste water treatment facility will be expanded to improve water quality along rivers near Newbury.
Thames Water has announced a £2.8m upgrade to its works at Wash Water, set for completion next March.
Currently, treated waste water from the facility is discharged into the River Enborne in west Berkshire, which feeds into the River Kennet.
The upgrade is part of the Care for the Kennet programme aimed at protecting its long-term future.
The Angling Trust, WWF-UK and Action for the River Kennet (ARK) are all backing the upgrade alongside the Rivers Minister, Richard Benyon.
He said: "We all love our rivers, they are the lifeblood of our country.
"They are vitally important for our everyday lives and our environment, and we've all got a role to play in making sure our rivers are as healthy as they can be."
Wash Water's inlet works, which takes in sewage from 7,200 people living nearby, will be expanded.
New screens will be installed to remove debris in waste water, along with a new settlement tank.
Lawrence Gosden from Thames Water said: "Before April we had had the driest two-year period on record in our region, which is why we had to impose a hosepipe ban.
"During dry spells much of the flow in rivers like the Enborne and the Kennet is treated waste water from our works, so the better its quality the better the health of these rivers."