Remembering Olympic rowing hero Frederick Kelly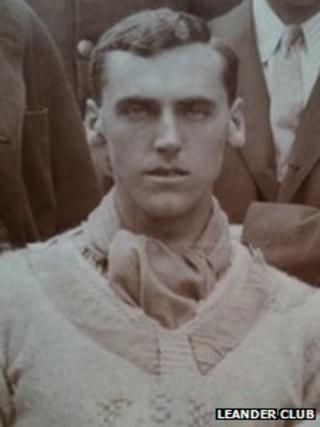 On Saturday, British athletes take to the water as the Olympic rowing events get under way at Eton Dorney lake.
They are part of a rich heritage of rowers, dating back more than a century, who have helped Great Britain achieve Olympic glory.
One such medal winner was Frederick Septimus Kelly, who won gold in the coxed eight rowing event at the London 1908 Olympics.
Following his success, he gave up competitive rowing to become a composer and concert pianist before leaving England to fight - and die - in the First World War.
Kelly was born in Australia but in 1893 he was sent to school in Eton, Berkshire, where he excelled in both rowing and music.
His great-niece, Carol Jones, who lives in Sydney, said: "I think it's such a life to have been away from his homeland from the age of 12 and to be studying overseas - with some of his family but quite often it was just his mother. His other brothers had gone ahead of him to Eton and Oxford.
"I think it's a pretty hard thing to leave your own country at the age of 12 and to stay away."
As a young man, while a member of the Leander Club at Henley-on-Thames, Oxfordshire, he won the Grand Challenge Cup three times, from 1903 to 1905, and the Stewards Cup in 1906.
'Great player'
He went on to study music in Germany but returned to Henley in 1908 to help the Great British Olympic team win gold by three boat lengths.
But after his medal success, Kelly never rowed competitively again. Instead, he threw himself into his music.
In his diary, he quoted an American psychologist, William James, who said: "If you only care enough for a result, you will almost certainly attain it."
Kelly added: "I thereupon decided to be a great player and a great composer."
Ms Jones, the granddaughter of Kelly's brother, Thomas, said: "I think whatever he did, he did with great fervour and he was very disciplined and it's something I've come to admire.
"The more I've learned about him the more I can admire him."
Kelly made his debut as a concert pianist in Sydney in 1911 and in London in 1912 and continued composing and performing songs, organ works and sonatas.
'Forever England'
In August 1914, while he was living at Bisham Grange, near Marlow, war broke out in Europe and he was accepted into the Royal Naval Division, along with composer Denis Browne, the prime minister's son, Arthur Asquith, and the poet Rupert Brooke.
Kelly struck up a great friendship with war poet Brooke, whose most famous poem, The Soldier, contained the line: "If I should die, think only this of me - that there's some corner of a foreign field that is forever England."
But the following spring, en route to Gallipoli, Brooke became ill from an infected mosquito bite and died on a French hospital ship off the island of Skyros in the Aegean.
His death was to have a profound effect on Kelly, who wrote his Elegy for String Orchestra in Brooke's memory.
His music never achieved critical acclaim but the Elegy was played at the 2012 Henley Festival.
Ms Jones said: "It's only been in the last eight to 10 years that his music has been played more frequently and there has been quite a deal of interest due to other people researching his life."
After arriving in Gallipoli, Kelly was injured in action. He also lost more of his friends, including Denis Browne and scholar Charles Lister. He survived, only to lose his life in France at the age of 35 during the Battle of the Somme in 1916.
You can hear the full story of Frederick Kelly's war, told by rowing Olympic gold medallist Steve Williams, on BBC Radio Oxford on Friday at 0900 and on BBC Radio Berkshire on Tuesday at 1330. You can also listen again on BBC iPlayer.