Rower's family hails 1912 Olympic medal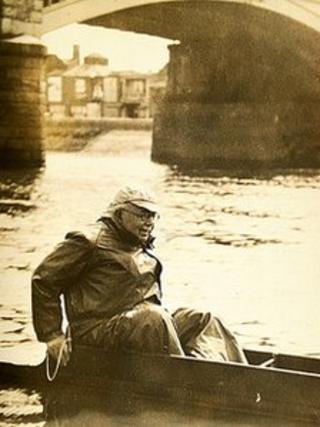 A Windsor family is planning a boat trip on Saturday to mark the 100th anniversary of an Olympic achievement.
Geoffrey Carr won a silver medal in the men's four rowing at the 1912 Stockholm Games.
Fifty of his descendants are hiring a boat to cruise down the Thames at Windsor in his honour.
Grandson Geoffrey Carr said his relative would have been "a bit gruff and stern about us making a fuss."
The cruise will take place on a steam cruiser called the S.L. Streatley, which itself is 100 years old.
On board will be the Olympian's only surviving child, Jane Jox, who is 90, as well as some of his great, great, great grandchildren.
They will make the trip as the men's four rowing is staged at nearby Eton Dorney in the 2012 Games.
Geoffrey Carr senior was born in Putney in 1886 and grew up near the River Thames.
He became passionate about rowing in his teens and joined the Thames Rowing Club.
At the age of 26 he was selected with the club's men's four crew to represent Great Britain.
Mr Carr was the boat's coxswain, a role that was dropped from the event after the 1992 Olympics.
'Brilliant opportunity'
Mr Carr junior, who has inherited his grandfather's silver medal, said: "We applied for tickets to go to the final but we failed. So we all decided to see if we could hire a boat.
"We are all so proud of what he did so it wasn't difficult to get people to agree to celebrate his achievements.
"We've always kept in touch so this a brilliant opportunity to get together and celebrate."
He was 10 when his grandfather died but Mr Carr remembers: "He was a very modest man. It wasn't until five years ago we discovered he'd won the silver medal."