London 2012: Disabled spectators' views blocked at Eton Dorney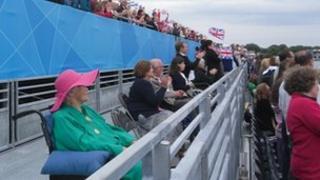 Olympic stewards have been re-briefed after spectators blocked the view from a disabled viewing area at Eton Dorney.
During racing people in the grandstand seating have been standing up in front of the disabled platform.
Those in wheelchairs behind the four rows of seating have complained after they were left unable to see the races.
A Locog spokesperson said their stewarding team would "ensure greater awareness amongst our guests of the needs of fellow spectators".
"Our stewards in the grandstand seating are briefed to ensure each and every spectator has a great experience," the spokesperson added.
"Although this can be challenging at very busy times, our stewards are briefed to ensure our guests are aware of the needs of fellow spectators."
View blocked
John Gurney is amongst those who complained to Locog after his 75-year-old mother was left looking at the backs of people's heads.
They attended the racing on Wednesday which saw the first gold medal for Britain at London 2012 won by Helen Glover and Heather Stanning.
He said: "During the race, everyone who was physically able to stand, did, and they were jumping up and down, waving flags.
"The people who had also paid but couldn't stand, didn't see much at all. What was she supposed to do, suddenly gain x-ray vision?"