Windsor Castle hydropower scheme delayed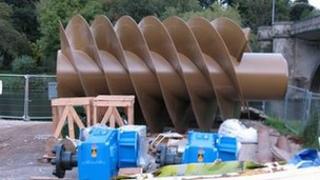 A hydropower scheme for Windsor Castle has been delayed by almost a year following cabling complications.
Two giant water turbines were installed at Romney Weir on the River Thames in December 2011, with a plan to be up and running in early 2012.
But an 11,000-volt cable connecting the system to the castle has yet to be installed after "some false starts", said project director David Dechambeau.
He added the new deadline was set for "the end of the year".
The decision has now been made to drill two horizontal tunnels under the river bed and the nearby railway line, about 15cm (6in) in diameter and up to 10 metres (32ft) below the surface.
Mr Dechambeau, from Southeast Power Engineering Ltd, said this would not cause any disruption to rail services and was the most "environmentally sensitive" way to install the cabling.
When ready, the multimillion-pound scheme is expected to provide more than half the electricity for the castle estate.
It would produce 2m kilowatt hours a year, which is enough to power 500 homes, said Mr Dechambeau.
He added when the castle shut down during nighttimes, the energy would be pumped into the grid.
A Royal Household spokeswoman said: "Progress is being made but the project is taking slightly longer to implement than envisaged."