Wokingham regeneration: first plans submitted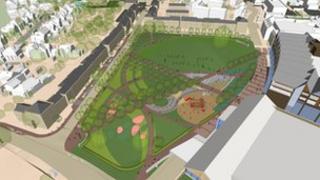 A planning application has been submitted to begin the regeneration of a Berkshire town centre.
Wokingham Borough Council and developer Wilson Bowden have submitted plans to refurbish Peach Place in Wokingham.
If approved, the 1960s buildings in Broad Street and Rose Street which are home to Clarks and Boots stores will be reclad and upgraded.
The move is part of a wider scheme to regenerate Wokingham and encourage retailers to return to the town.
Regeneration councillor Alistair Corrie said: "We are re-cladding these buildings rather than demolishing them as it is really important to keep businesses like Boots and Clarks still trading in the town to maintain footfall whilst the rest of the regeneration is delivered over the next few years."
In July, more than 1,200 people visited a public consultation event about the regeneration proposals, which would include a new plaza.
The main planning application for the scheme is due to be submitted in the autumn. It will also include new shops and a hotel in the Elms Field area and, if approved, should be complete by the end of 2016.
The town has suffered in recent years as major retailers have moved out of the area to larger out-of-town developments.