Global Hearts for Children charity forced to shut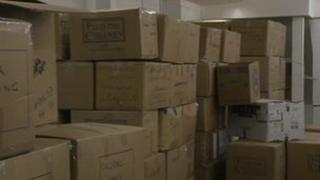 A Berkshire charity has been forced to close its doors after 18 years due to a drop in the number of cash donations.
Global Hearts for Children in Ruscombe said it had no shortage of donated clothes but was not receiving the money to cover its operating costs.
Former chief executive, Brian Main, said it had seen a drop of about 45% in cash donations.
Three full-time members of staff have lost their jobs as a result of the closure.
"We've got to the point when the donation levels coming in are really just matching our operating costs and therefore we cannot continue," Mr Main said.
As the stock was given as a charitable donation it will now be redistributed to another charity.