Eton Dorney parking restrictions ignored by hundreds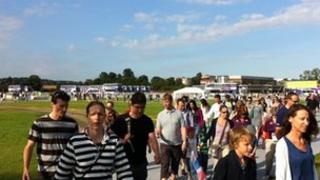 Parking restrictions around the Eton Dorney rowing venue during the Olympics were ignored by more than 200 people, it has been revealed.
Windsor and Maidenhead Borough Council put special measures in place and shuttle buses were provided to transport people.
But the council still issued 123 penalty charge notices.
It also towed away four vehicles and warned more than 100 other motorists to move their cars.
Each penalty charge is for £70, so the council could generate a maximum of £8,610 from fines, but those paid within two weeks are eligible for a reduced fee.
The Olympic Organising Committee is currently preparing the Dorney Lake venue for the Paralympics which begin on 29 August.