Main road to Reading Festival to 'reopen in time'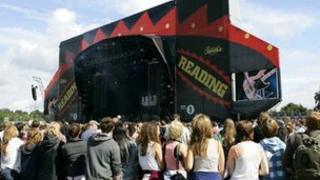 Roadworks on the main road to the Reading Festival site will be completed by Monday, Thames Water has said.
One lane on Caversham Road is closed while the water company replaces pipes, causing daily traffic disruption.
But Thames Water said the lane would reopen in time for the arrival of 90,000 music fans to the festival site.
A company spokesman said: "We know how important the Reading Festival is to the town and the extra strain it can put on the roads."
The project to replace 252m (826ft) of cast-iron piping will be continued in September.
The Reading Festival starts on Friday, 25 August with fans expected to arrive at the start of the week.