Henley singer Danica Hunter's Reading Festival 2012 plans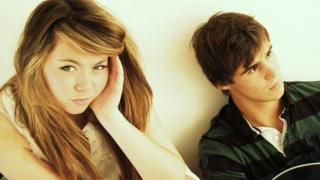 Danica Hunter from Henley-on-Thames said she "cried" when she got the call to say she would be performing at the Reading Festival.
The three-day music event this year hosts headliners The Cure, Kasabian and Foo Fighters.
And on the Friday afternoon, 18-year-old Danica will be performing a 25-minute set on the BBC Introducing stage.
The soulful singer was chosen after being nominated by BBC Introducing in Berkshire.
A panel of industry experts decided the line-up after receiving hundreds of nominations from BBC Introducing presenters around the UK.
So to be one of the 37 acts on the stage that alerted the music industry to The Tings Tings and The Joy Formidable is a very big deal.
Hence Danica's tears of joy.
"I literally could not believe it," she said.
"I've been going to the Reading Festival for four years and I'm always at the BBC Introducing stage seeing what's new.
"And to now to be on the other side is just unbelievable. I cried. I just couldn't help it."
Danica has been hard at work sorting out a mixed and varied set of songs.
"At first I thought it would be easy, a 25-minute set, but then you realise you can only do six songs," she said.
"I was practising my set today and it is hard because some of my songs are quite mellow and chilled, but I want people to get up and dance, so I've got a lot of hyped songs around them.
"I've thought a lot about the people I'm going to be performing to."
In addition to regular guitarist Hamish Chandler, Danica will be joined by a cajon player and a bassist to flesh out the music.
She will also be performing a duet with singer Frank Hamilton, with whom she wrote a song called About A Weekend.
So what is she hoping to get out of playing Reading and Leeds?
"For new people to come down and see me, and to get more people on my Facebook fanpage.
"I also want to meet the other new acts that are out there."
Danica Hunter is playing on Friday at 13:55 BST on the BBC Introducing stage at Reading, and at the same time on Saturday at the Leeds Festival.