Attention Thieves prepare for Reading Festival debut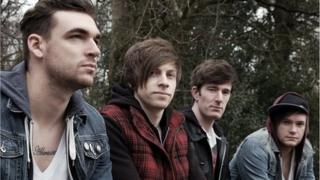 Reading rock band Attention Thieves said it was "a dream come true" when they heard they would be playing the world-famous music festival in their home town.
"We recently visited the Reading site which has made us so so excited to be part of these festivals," said drummer Simon Chambers.
The three-day event this year hosts headliners The Cure, Kasabian and Foo Fighters.
Attention Thieves play before a cheering home crowd on the BBC Introducing stage on Friday at 16:55 BST.
"I'm hoping everything will run smoothly performance wise," said Simon, "but I know that the crowd is going to be one of the best ones we have ever played to."
They are expecting an army of Reading-based fans to turn up and support them.
"We have literally told everyone we know who is going to the festival to come and check us out," said Simon.
"We've been getting a lot of tweets and Facebook messages from random people saying they will watch us as well. We cannot wait."
After the festival weekend, which includes travelling up to the Leeds Festival on Saturday, the four-piece will be "writing and fine tuning the songs for the album", which is due to be recorded in October, as well as perform some more gigs.
Simon said: "We have plenty to get on with once we recover".