Reading Festival crime falls for second year in a row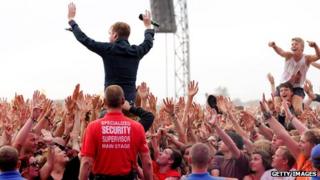 Recorded crime at the Reading Festival has fallen for the second year in a row, police figures have revealed.
Thames Valley Police recorded 57 crimes over the weekend at the Richfield Avenue site compared with 155 the previous year.
Most of the crimes reported were for thefts from tents and drug offences.
About 87,000 people attended the three-day festival which saw headline performances from The Cure, Kasabian and Foo Fighters.
In 2010, 327 crimes were reported to police.