Reading Festival crime down by 40%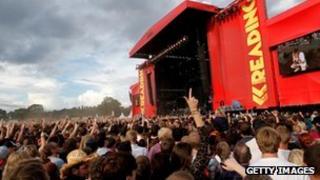 There was a 40% fall in the number of reported crimes at this year's Reading Festival, police have said.
There was a total of 139 crimes reported at the event, which took place over the August bank holiday weekend, compared with 231 last year.
The number of people arrested on suspicion of dealing drugs rose from two in 2011 to nine this year.
About 87,000 people attended the festival, which featured headline acts The Cure and Foo Fighters.
Drug possession arrests were down, according to the Thames Valley Police figures. Six people were arrested on suspicion of possessing cannabis, compared with 14 last year.
'Success story'
There were five arrests for possession of other illegal substances, compared with 14 in 2011.
The majority of crimes reported were thefts, 51 from tents, 49 from people and three snatch thefts.
There were 123 reported thefts from tents at the 2011 event.
Ch Insp Christian Bunt, night time commander for Reading Festival, said: "A 40% reduction in crimes is a success story by any measure.
"Of course any crime is too much crime but considering there were nearly 90,000 people on site, the crime figures are very low.
"The vast majority of festival goers were very well behaved and there was a great atmosphere throughout the event."