Ascot house explosion couple call for gas detectors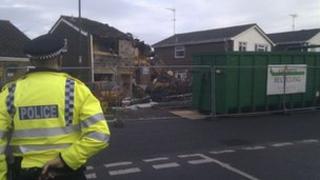 A couple from Ascot whose home blew up in a gas explosion have called for gas detectors to be made compulsory in every new home.
John Munro and his wife Sylvia suffered serious burns after a candle sparked a huge blast at their home last November.
Mr Munro said: "If modern houses are being built, as part of the deal they should have adequate gas detection."
An investigation identified the cause as a corroded gas pipe under the house.
Mr Munro said: "Smoke detection is high on the agenda, but gas detection is not for some reason and for my mind it really should be.
House demolished
"You don't think it's going to affect you unless you do something like leave a gas cooker on. We didn't even have a gas cooker in our property."
The couple were airlifted from the scene in Sutherland Chase and initially treated at Southampton General Hospital.
Now recovered from his injuries, Mr Munro, 72, spent a month in hospital.
Mrs Munro, 69, whose legs and hands were badly burnt, spent three months in hospital and is still undergoing treatment.
Work to rebuild their home, which was demolished two days after the blast, is expected to start in two weeks.
Mrs Munro said: "At first I did not want to go back, but we've had a lot of happy memories there so we've decided to go back."