Olympic rowing benefited Windsor and Maidenhead, says report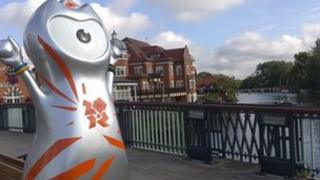 The Olympic and Paralympic rowing events at Eton Dorney had a positive impact on the surrounding area, a council report has said.
Windsor and Maidenhead council's study into the benefits of the Games found 300,000 extra visitors went to the borough.
It admitted that not all businesses enjoyed an increase in trade while the racing was taking place.
The report said benefits included upgraded roads, paths and cycle routes.
Councillor Simon Dudley said: "The council earned many plaudits for the way we helped manage the local effects of what was a global phenomenon so that daily lives continued as normal."
The Olympic Legacy Report by the Conservative-run council highlighted the co-operation between public sector organisations in delivering the Games.
'Intangible benefit'
It also praised the 250 trained Eton Dorney Ambassadors which the report said "helped to further embed volunteering as an integral part of the community".
During the Games, individual traders in Windsor reported a drop in sales, claiming fears over congestion around the Olympic venues had put off other tourists from visiting the area.
Janette Gower, of Thames Valley Chamber of Commerce, said: "Local traders had been hoping to benefit from more visitors, but found people came to watch the events and didn't stay in the area, so it is hard to point to an increase in revenue.
"The success of the Olympics had a feel-good factor for the area as a whole - that's a more intangible benefit."
She said the transport planning was widely seen as a success and there was some evidence businesses were increasingly looking at flexible shifts and home-working which they first tried during the Games.