Flip flops ban in new dress code for Slough council workers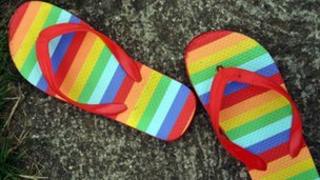 Revealing tops, shorts and flip flops will be among banned items of clothing for staff at a Berkshire council.
Slough Borough Council is to introduce a new dress code to ensure its staff dress "appropriately".
High standards of personal hygiene are also required and any breaches will be met with disciplinary action.
The council said the measures would ensure employees represented the authority in "a positive, professional manner". The GMB has welcomed the move.
Carolyn Cotterell, GMB union branch secretary and council worker, said: "We think it is the right thing to do.
'Commonsense approach'
"Things like flip flops do not look very professional if you are front-facing.
"I have heard no complaints... talking to staff they think it is quite right."
She said union members had been consulted on the plans and given a chance to have an input.
The council said the majority of employees dressed appropriately, but it believes the code will help managers to deal with any potential issues.
Council officer Kevin Gordon stressed the code was being put in place to help relations with the public.
He said: "A formal dress code is being introduced to support our desire to maintain a positive, professional image.
"We are committed to equality and will be applying the code using a commonsense approach to meet the needs of individuals and cater for different service areas."
The code will be reviewed within the next 12 months.