Five puppies dumped in Old Windsor on New Year's Eve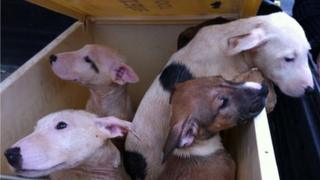 Animal rescue officers believe five puppies dumped on a doorstep on New Year's Eve may have been bred as Christmas presents that failed to sell.
The box of English Bull Terrier cross puppies was found outside Battersea Dogs and Cats Centre in Old Windsor.
The animals, around 12 weeks old, were malnourished and dirty.
Staff at the Berkshire centre have named them Midnight, Big Ben, Chimes, Bubbles and Fizz.
'Quick buck'
Centre manager Kaye Mughal said: "Given the timing, we're worried they were bred as Christmas presents by someone looking to make a quick buck, but when they failed to sell, they were disposed of.
"Dumping animals without food or water near a busy main road could have disastrous consequences, but thankfully we found these pups quickly and they're now recovering from their ordeal."
The puppies will stay at the Old Windsor home for at least seven days before they can be rehomed.
Between 24 December and 1 January, Battersea Dogs and Cats Home's three centres took in 96 dogs and 52 cats.
They included 11 cats and 36 dogs at the Old Windsor centre, half of which were strays.