Calls for new M4 hospital 'warmly received'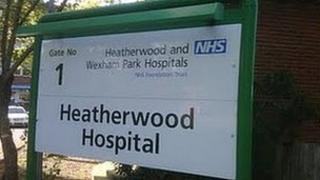 The idea of a new hospital near the M4 in Berkshire has been "warmly received", an MP has said.
More than 60 people attended a public meeting in Maidenhead on Thursday to discuss a Royal Thames Valley Hospital near junctions 8 and 9.
Bracknell MP Phillip Lee has championed specialist centres of excellence, located on transport hubs.
The Home Secretary, Maidenhead MP Theresa May, attended the meeting and has backed the concept.
While there is no formal proposal, GP Dr Phillip Lee has published a report into a new hospital close to the M4.
It is based on the idea of concentrating specialist services in larger regional complexes, away from traditional hospital sites in town centres.
'Very emotive'
Dr Lee believes a hospital near the M4 could serve 650,000 patients in south Buckinghamshire, Berkshire and south Oxfordshire.
He said: "It's challenging the perception of what a hospital is for. It's very emotive and there is a certain sentimentality people feel towards their local hospitals.
"It challenges the make-do-and-mend which has bedevilled the NHS's approach to infrastructure.
"I was quite pleased it was warmly received - when people hear about it, they do get it," he added.
Mrs May previously said: "I have long supported the concept of a new hospital at this location.
"Phillip has been able to take this forward and publish new proposals.
"It's an important part of the wider debate about the NHS in Berkshire, and I will always look for opportunities to safeguard and enhance local services."
£1.8bn value
Wexham Hospital in Slough, St Mark's Hospital in Maidenhead and Heatherwood Hospital in Ascot are among the facilities which would close under the plan.
Dr Lee maintains selling the land occupied by the existing hospitals for private development would raise up to £1.8bn towards the costs of the new regional hospital.
NHS Trusts across Berkshire are yet to comment on the concept of a new hospital.
Dr Lee intends to hold similar meetings in High Wycombe and Slough.