Slough 'eyesore' Wentworth Avenue flats demolition begins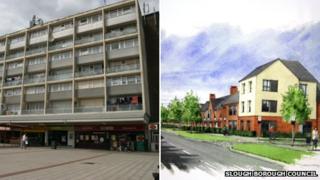 The demolition of a block of flats regarded as an eyesore by residents of a Berkshire town has begun.
Wentworth Avenue tower block in Slough is to make way for a new housing development.
The demolition is part of the wider regeneration of the Britwell area of the town.
The Homes and Communities Agency has invested £800,000 in the regeneration which will include new homes and shops for the area.
John Rice, assistant director of regeneration and estates at Slough Borough Council, is looking forward to a new look for the town.
He said: "One of the main aims of the Britwell Regeneration Project was to rid the area of the horrid tower block.
"For months now we have been moving former residents to new homes, building new properties in the area for tenants and now, everyone will be able to see the block coming down."
Countryside Properties will be constructing the new homes in Britwell.