Reading cow emission buses to run in town from spring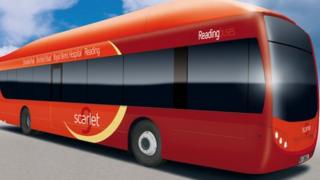 Buses powered by the emissions of cows and waste food are set to run in Berkshire.
Reading Buses has 20 of the vehicles on order at a cost of £3.5m and will begin services in May.
James Freeman, chief executive officer, said: "It's going to cost us less to actually run these buses, and they're smoother and quieter as well."
The 12m (39ft) long 40-seat vehicles will be run on both compressed natural gas and bio natural gas.
Developed by Scania and Alexander Dennis Limited, they have a special compartment on the roof to store the fuel.
Alan Martin, manager of special projects at Scania (Great Britain), said it was "rigorously tested to virtual destruction".
'Join the club'
Mr Freeman said: "The gas that we're buying to put into these buses is not North Sea gas, or coming from Russia or whatever.
"We're buying gas from a farm in Sussex where it is created very naturally from the emissions of cows - I'll not go further into that - and waste food."
Converting cow manure into methane biogas is said to be environmentally friendly, instead of allowing manure to decompose and create global warming gases.
Mr Freeman added: "We are an early adopter in the British sense but we are not an early adopter in the world or European sense and that's one of the attractions of this.
"Last year I visited the town of Augsburg in Germany where every single bus is compressed natural gas operated, and finally the manufacturers have created a right-hand version so that we British can join the club."