Reading Abbey manuscript due for its first public display reveals abduction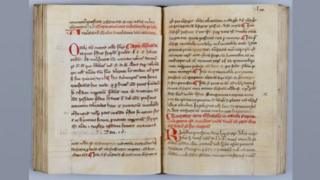 A medieval manuscript that sheds new light on life at Reading Abbey during the 13th and 14th centuries will be put on public display for the first time.
It details life at the abbey, now a ruin, including tenant dealings, clergy appointments but also an abduction.
County archivist Peter Durrant said: "A woman had promised to marry someone but some rival suitor whisked her away".
The Berkshire Record Office in the town will unveil the £36,000 administration document to the public on 28 February.
It is thought to be the last Reading Abbey manuscript to have remained in private hands and was sold to the record office for £36,000 this month.
The money was raised through grants and donations
Mr Durrant said: "A very important piece of Reading's history has come back to the town.
"It is great to know that it will now be safe for the future in Berkshire Record Office, and that for the first time it will accessible for study and enjoyment."
Reading Abbey was founded in 1121 by King Henry I.
It was one of the wealthiest abbeys in medieval England and changed the shape of Reading, according to the town's museum.
But it was largely destroyed in 1538 during Henry VIII's dissolution of the monasteries and is now a ruin.
Among the few buildings that remained in use was the Abbot's House which was a royal residence up to 1642.