Slough's Wexham Park Hospital wins maternity funding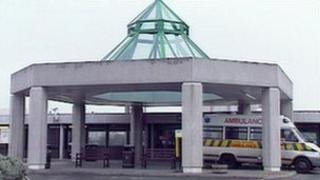 Nursing staff at Wexham Park Hospital in Slough are looking to expand their maternity services to offer mothers-to-be more birthing choices.
The town has the highest birth rate in the UK outside London with 20.9 per 1,000 population and the hospital recorded 5,200 births last year.
The hospital received £55,000 from the Department of Health (DoH) to pay for two new birthing pools.
Maternity bosses said they also wanted to provide alternative therapies.
The DoH announced in January more than 100 hospitals would share a £25m fund to improve and upgrade their maternity units.
Wexham's director of nursing Deirdre Thompson said the hospital wanted to plan ahead to offer parents more birthing options in light of a predicted national birth rate rise.
"We are the highest outside London and that doesn't look like it's going to change any time soon," she said.
She put the high birth rate down to a young population of child-bearing age and immigration.