Atomic Weapons Establishment 'failed to comply'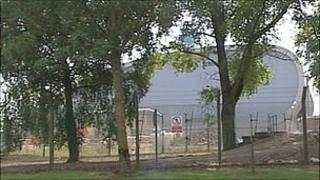 A UK nuclear weapons factory failed to carry out adequate inspections to prevent corrosion inside one of its buildings, a report has said.
The Atomic Weapons Establishment (AWE) in Aldermaston, Berkshire, halted work following a routine inspection by the Office for Nuclear Regulation (ONR).
The company subsequently discovered corrosion on several steel columns in its uranium handling facility.
An AWE spokesman said it took the regulatory action "very seriously".
The factory maintains warheads for Trident, the UK's nuclear deterrent.
The ONR said that the nuclear structure has degraded to the extent that "normal operations can no longer be justified".
It describes the building as a "Class 1" structure, the "highest and most important classification for a nuclear structure, and...the most important to safety."
The AWE spokesman said it was "working closely with the ONR to ensure that its inspections, safety measures and planning for remedial work are carried out with their full knowledge and consent".
He added: "Safety remains our top priority and we are now carrying out a programme of inspections for buildings of similar design and age across our sites."
ONR has served an improvement notice with a target date of December 2013 for completion of the works.