Windsor Castle hydro power passes test and ready to start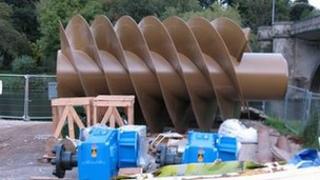 A hydro-electricity plant for Windsor Castle is ready to be launched after passing safety tests.
Two giant water turbines were installed at Romney Weir on the Thames in Berkshire in December 2011 to supply electricity to the Royal residence.
Project director David Dechambeau said they have already generated electricity for the castle during recent tests.
He said the turbines would officially be able to provide electricity for the castle in two months.
'Flying colours'
The scheme included the recent installation of an 11,000-volt cable connecting the system to the castle.
The project should have been completed in 2012 but was delayed after complications forced Southeast Power Engineering, which designed and built the turbines, to rethink where the cables should be installed.
The turbines passed a G59 test last week, which looks at safety standards required for the connection of a generating plant to existing distribution systems.
Mr Dechambeau said: "We passed the passed the test with flying colours and we can, and occasionally are, generating electricity.
"I can see the lights in the castle and know that that's my electricity lighting that light.
"It took me five years to get here so it is kind of exciting."
Following a commissioning process which is expected to last another two months, the turbines will be ready for an official launch.
The multimillion-pound scheme is estimated to provide more than half the electricity for the castle estate.
It would produce 2m kWh a year, which is enough to power 500 homes, said Mr Dechambeau.
Surplus energy generated by the turbines will be fed into the National Grid.