Plane to search for Slough 'beds in sheds'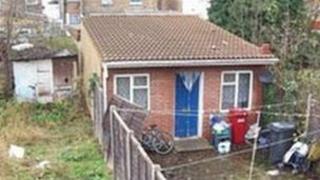 A plane equipped with a thermal imaging camera is set to fly over Slough looking for people living in sheds.
The council believes up to 3,000 households in the town may have illegally converted their sheds and outbuildings to house migrant workers.
It will be the first time the authority has commandeered a plane for this purpose with take-off this weekend, depending on weather conditions.
The cameras cannot detect body heat but will find warm areas in outbuildings.
The plane, which is based at East Midlands Airport in Leicestershire, will fly over Slough for about two hours.
James Eddy, technical director at Bluesky which offers the service, said: "It will be airborne just after sundown which will allow roofs to cool.
'Shanty town'
"We need a clear, still night with very little wind. This is the first time it has been used for this application - looking for beds in sheds."
The images will be processed and analysed with results ready in a few weeks, he added.
The council has been tackling the problem of "beds in sheds" for many years.
It said many were unfit to live in and did not comply with building regulations.
James Swindlehurst, deputy leader for the council, said: "The people in them generate waste, they use council services, they have a cost to the council that isn't being paid for by taxation.
"We are also trying to make sure people are living safely and properly.
"By the time you have people's laundry hanging on lines [in gardens] the place starts to looks like a shanty town."