Reading family's plea for meningitis B drug vaccine for children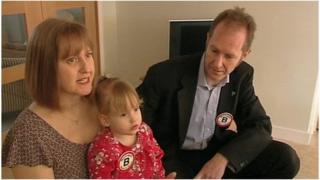 A Berkshire family whose daughter lost part of a leg due to meningitis B are leading a campaign for all children to be vaccinated with a new drug.
The Coneybeare family, from Reading, said Bexsero could save thousands of lives, especially among children.
Eleanor Coneybeare's parents met with their MP Rob Wilson, the parliamentary private secretary for health.
They want him to ask Health Secretary Jeremy Hunt to add the drug to the roster of childhood immunisations.
Children under the age of five are the most at risk from the bacterial infection, which leads to inflammation of the brain and spinal cord.
Repeated surgery
About a quarter of all survivors of meningitis B are left with life altering after-effects, such as brain damage or limb loss.
Eleanor, who is now two years old, caught the disease when she was eight months old.
She had to have her leg amputated, lost fingers on her left hand and was left deaf in one ear.
Duncan Coneybeare, Eleanor's father, said: "She'll have to have repeated surgery I think to care for the stump that's left on her leg and make sure that that doesn't cause problems when she's older.
"If you could avoid that with a childhood immunisation , isn't that a no-brainer?"
Mr Wilson, Conservative MP for Reading West, said: "He [Jeremy Hunt] knows that it's with the immunisation and vaccinations committee. They're looking at it.
"His job is to take the best available advice, and if that advice is that we should implement a national vaccination programme, that's exactly what we will do."
About 1,870 people contract meningitis B each year in the UK.
One in 10 die and one in four are left with permanent disabilities such as limb loss, blindness, deafness or brain damage.