New Swinley Forest mountain bike trails protect wildlife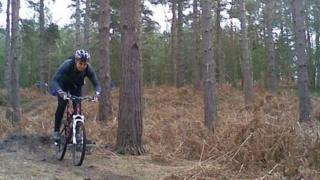 New mountain bike trails have been developed on Crown Estate land to protect both cyclists and ground-nesting birds.
The three improved shorter trails will avoid previous areas occupied by three ground-nesting birds.
They will be colour-coded and are due to be completed end of March.
The trails will total 25km (15 miles) and replace 55km (34 miles) of existing trails.
Swinley Forest chief forester John Deakin said it has dealt with up to four injury claims in the past two years.
The forest, near Ascot, is a mountain biking hotspot and for the past 20 years bikers have developed their own trails but they pass through areas occupied by three types of ground-nesting birds - the Dartford warbler, the woodlark and the nightjar.
The Crown Estate has spent "hundreds of thousands of pounds" developing three shorter trails which can be inspected every day and which are colour-coded according to ability.
But Roger Wayte, chair of Berks On Bikes Mountain Bike Club, said the club understood why the trails were being updated but feared local mountain bikers would be "confined to just going through the forest in a loop and then go home".
The trails will start and finish at the Look Out Discovery Centre in the forest.