Thames Water spends £4.5m fighting sewage floods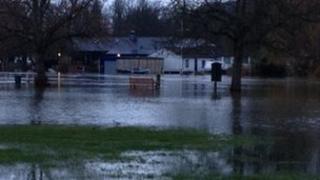 A water company has spent £4.5m this winter pumping waste out of sewers to prevent them overflowing.
Thames Water said rain and saturated ground left it with no choice but to constantly pump sewage away.
The firm's tanker lorries have been working 24 hours a day at locations including Lambourn Valley in Berkshire and Playhatch in Oxfordshire.
A spokesman said it was the only way to protect homes and pumping would continue for the "foreseeable future".
Richard Berkley, from Playhatch, said he had lived with a "lake of raw sewage" outside his home intermittently since early December.
He said: "You just step outside the house and you feel that you're sort of covered in the stuff."
Thames Water spokesman Simon Evans said: "In places like Playhatch we are having to get tanker lorries to suck out excess waste water in our sewers to stop those sewers flooding."
Mr Evans said the lorries' impact was limited.
"We are essentially trying to pump a river dry, which we can never achieve," he said.