Medieval bones found underneath Reading's Friar Street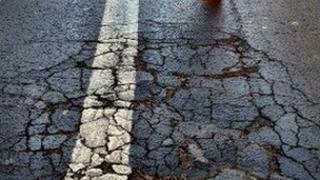 Bones and clothing thought to date back to Medieval times have been found underneath a Reading town centre street during surface repair works.
Large cracks began appearing in Friar Street in Reading a month ago.
They are thought to have been caused by a collapsed Victorian clay sewer pipe found 1.5m (5ft) underground.
Workers also discovered the remains, which are thought to be from a horse, pig, cattle or goat, and soles of shoes dating back to about the 12th Century.
Thames Valley Police were called to the site after the bones were discovered, but the site has now been handed over to an archaeological specialist, who is investigating further.
The council is in contact with Thames Water to establish whether the pipe can be dug up.
The council initially thought severe winter weather was to blame for the deterioration of the surface.
Resurfacing and underground repair work in the street began on Monday and is expected to last until Friday.
Friar Street, a main bus route in the town, will be closed between Greyfriars Road and Station Road with services diverted.