Rapist Brian Austin duped girls into sex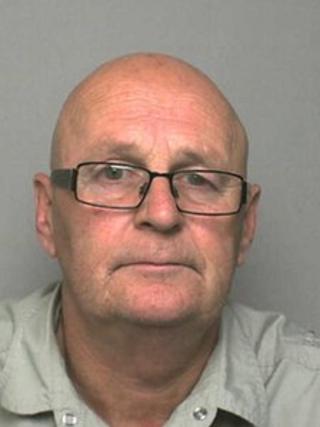 A rapist from Reading has been jailed for 18 years after duping girls aged 14 and 15 into having sex with him.
Brian Austin, 59, of Kingsley Close, Whitley Wood, was sentenced at Reading Crown Court on Friday for eight sexual offences between 1999 and 2005.
Speaking after the hearing, Det Con Danny Bowles said Austin, who has a false leg, had tricked the girls by offering money to "have pretend sex".
He added he hoped the sentence would "spur other victims to come forward".
Judge Peter Ross sentenced Austin after he was found guilty of two counts of rape, one count of attempted rape, two counts of indecent assault, two counts of causing a child to engage in a sexual activity and one count of sexual activity with a child.
Mr Bowles said Austin had targeted the young girls, who were from the Reading area, for their "vulnerability".
He said: "He befriended them. They have maybe come from a broken home and not from loving families - the vulnerability of the girls was key."
He added two of the girls had come forward individually after spotting Austin's name in the press for being involved in another incident.
He added the case was helped by the four girls, who did not know each other, offering similar details of what happened during the sexual offences, which included Austin removing his false leg beforehand.