Pirbright Institute in Compton village to close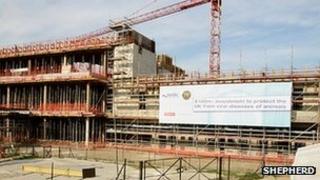 An animal research institute based in a Berkshire village is to close.
The Biotechnology and Biological Sciences Research Council (BBSRC) is moving research on farm animal viruses from Compton to Pirbright, Surrey.
David Parfrey, director of finance for BBSRC, said the new £100m centre would be a "world-leading" facility.
West Berkshire Council hopes to redevelop the land, situated in an Area of Outstanding Natural Beauty, with affordable housing.
A council spokesman said it would take a "sensitive approach" to future redevelopment on the brownfield site.
Mr Parfrey confirmed the Compton site would close once its current projects were completed.
Lee Caines, the institute's head of security for 22 years, said he was worried villagers would lose their jobs.
Mr Caines, who is also a resident, said: "A lot of friends, and some family, are going to be affected quite badly.
"People are worried about the site, [whether] there will be hundreds of houses, and any impact on the village."
West Berkshire Council's public consultation on the site continues until 2 April.