Medieval Reading Abbey manuscript goes on public display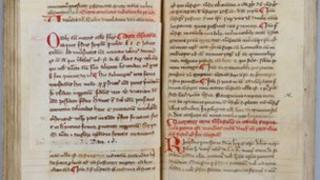 An ancient manuscript documenting part of Reading Abbey's history dating back to the 14th Century is being displayed publicly for the first time.
Assaults on two priests and the abduction of a woman before her wedding day are just two of the tales contained in the medieval parchment folios.
The manuscript was bought for £36,000 from a private collection from funds raised through donations and grants.
It will now be displayed publicly at Berkshire Records Office in Reading.
Peter Durrant, county archivist, said: "There was a case towards the end of the book where two priests at the abbey alleged they were beaten up in Reading and a document relating to the punishment should they be found.
"There is a document related to an abduction before marriage. William de Bourton and Matilda, the daughter of William Tylli, were all set to get married and had a verbal agreement. Then Ralph Byvulac of Reading apparently abducted the woman and prevented the marriage from taking place."
The records office bought the manuscript with help from the Friends of the National Libraries, the Victoria and Albert Museum and a donation from the Friends of Reading Abbey.
'New evidence'
Mr Durrant added: "The document was created in Reading Abbey, probably in the 1340s. It's in parchment folios bound into a book.
"What this does is indicate new evidence for the history of the abbey.
"This is really the first time that this has ever been seen publicly. It's been in private hands since the 1530s.
"One or two people may have looked at it but in terms of public access scholars and the general public have never seen it before.
"Discovering it and being able to acquire it is very exciting."
Reading Abbey was founded by Henry I in 1121 and the king was buried there.
But it was largely destroyed in 1538 during Henry VIII's dissolution of the monasteries and is now a ruin.
Among the few buildings that remained in use was the Abbot's House which was a royal residence up to 1642.