Slough drivers warned over return of rising bollard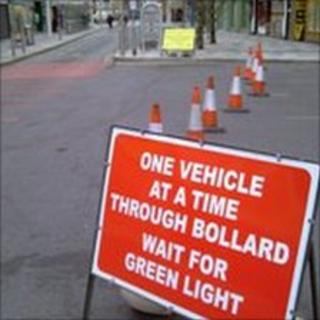 A rising bollard involved in numerous accidents will come back into operation on a Berkshire road on Monday.
Slough Borough Council installed the bollard in 2010 to restrict access to the town's High Street - and it was struck 19 times within two months.
The bollard sinks to allow buses and taxis through, but other vehicles have followed and been hit as it rises.
It has been out of action for the last seven months for upgrades. The council said: "Motorists be warned."
A CCTV system recognises the number plates of buses and taxis and lowers the bollard, while disabled drivers can request access.
No way through
Other vehicles are not allowed to pass.
Council technician Darren Gotch said: "There are signs in place and a loud audible alert message plays each time the bollard operates, so drivers are given ample warning.
"The metal bollard is a sturdy piece of machinery, so you risk doing some serious damage to your vehicle if you crash into it."
The bollard, installed to stop the street being used as a "rat run", was jammed in the upright position for two days at one point after being struck four times in a day.