Learning the lessons of Swinley Forest blaze two years on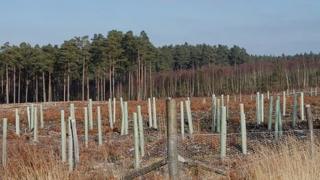 The devastating fire that swept through a Berkshire woodland two years ago is still etched in the minds of nearby residents and the Forestry Commission team.
The blaze in May 2011 burnt 110 hectares (1.1 sq km) of Swinley Forest and 13 neighbouring houses in Crowthorne were evacuated.
Simone Hutchinson, from Brookers Row, was one of the residents who had to flee with her husband and two children.
"Even now I still keep photos in a suitcase in case it happens again," she said.
'Challenging time'
"We had 10 minutes to pack but I had spent seven minutes flapping about. It is still in the back of my mind."
The Forestry Commission has already issued a forest fire advice sheet ahead of the summer.
And special measures are in place to minimise the chances of such a large fire spreading again.
"We put in about 65,000 broadleaf trees," said the Forestry Commission's Rob Gazzard.
"We've used a mixture of oak and sweet chestnut to form what are called fire belts [which] are formed by very resilient species... so if another fire comes through, we'll have a great opportunity to stop [it] at these points."
The forestry team located areas of high risk - mostly in the valleys, as the speed of a spreading fire doubles with every 10% of gradient, Mr Gazzard said.
Some slopes at Swinley Forest have a gradient of up to 20%, increasing the speed by four-fold.
"With every 10% of the slope we get more radiant heat heating up the fuel ahead of it," Mr Gazzard said. "As it gets heated up, the fire can spread more faster through it because there is less resilience and vegetation."
It was mostly young Corsican Pine that was lost in the fire, which the authorities believe was started by children.
In their place in the vast clearing left behind are thousands of tubes dotting the landscape.
Inside them are little tiny saplings that will take around 50 to 60 years to become adult trees.
The heavy frost and wet periods last year made it a "challenging time" for the saplings to grow, but they are now doing well, Mr Gazzard said.
With some of the trees that survived, volunteers have removed the horizontal branches up to head height in a process called brashing.
"This is really useful as it reduces the chances of a surface fire going up into the crown," Mr Gazzard said.
The Forestry Commission has also issued a national document about how it can improve long-term forest planning to build resilience to wild fires.
Mr Gazzard said that since the large-scale fires that broke out across England last year, the Forestry Commission has learnt to work more closely with the local fire services and councils.
"We've had an interesting time, but all in all - we're confident things are moving on here as planned," he said.